A flexure hinge is an ideal construction element for making small angular rotations, without play and without friction. Material stress, angular rotation and force requirements are difficult to optimize without proper calculations. The free FlexHinge software application allows you to quickly calculate the stiffness and material stress of a flexure hinge. It carries out all calculations automatically. Simply enter the material data and dimensions in an easy to use window. The results will appear almost instantly in the same window.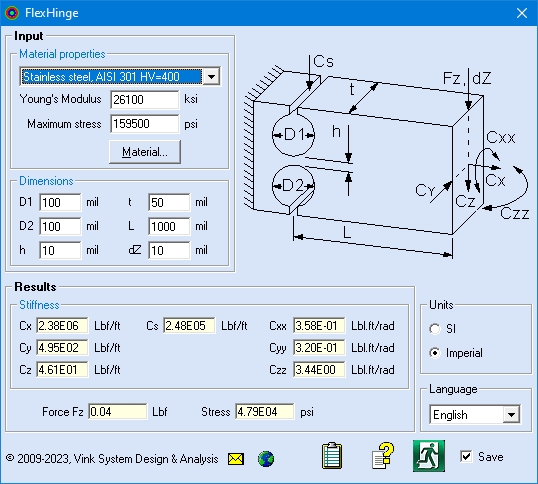 Features of FlexHinge, the Free Flexure Hinge Calculator
calculation of translational and rotational stiffness;
calculation of material stress at any given deflection;
expandable list of material data;
extensive help file;
Windows Clipboard copy function;
Also runs on Linux.
The latest release of FlexHinge is 1.1.1. See the release notes. Download FlexHinge here. Note: if you run one of the toolkit programs on a high resolution display (High DPI)  on Windows 10, the fonts can be blurry. See this article for an easy fix.
Check the system requirements here.
Useful Results for Designers
You can use the results from FlexHinge directly in your design decisions. The calculations of the stiffness and material stresses in FlexHinge are based on the empirical formulas as given in the lecture notes "Het voorspellen van dynamisch gedrag en positioneernauwkeurigheid van constructies en mechanismen, W. van der Hoek 1981". These are based on accurate FE-analyses. Read more about about FlexHinge in the article Flexure hinges: theory and practice.

Download for Free
You can download and use the flexure hinge calculator FlexHinge for free after registration. By registering, you will receive an email when an update or new software is available. There are more than 1700 registered users of FlexHinge (September 2022).
Please check the software programs you want to receive information about. You will receive an email with a link to download the software.
You can always edit your preferences and personal information or remove all personal information. See the Privacy Policy.
Comments are appreciated
I am interested in hearing about your experience with FlexHinge. Leave a comment below or send us an email.